Reaching Goals with Confidence and Self-Reliance
Years 11 & 12 (College)
Whether in in the classroom or in the boarding school -- in the final two years of schooling we expect a high level of independence from our students. Both the Abitur and the International Baccalaureate Diploma Programme (IB) are organized as course systems with individualized schedules and self-reliant learning:

Self-guided, after-school studying is supported by mentors and subject teachers
Supplemental, theme-related educational activities, such as study trips, excursions, extracurricular clubs (Model United Nations, political clubs, etc.)
Enhanced by library-based multi-media study spaces
Civic education through guest lectures, evening programs and student self-governance (student parliament, academic council, study groups, Spetzgart Forum, The Spetzgart Supper Talk)
Career Counseling Office with teacher-counselors who are experts on admission to German and foreign universities
A final "Salem Report" thoroughly documenting a student's involvement in services and athletics, in political activities and creative pursuits, in elected offices and as a member of the student self-governance
Contact person
Ken Lander
Head of Salem International College, Spetzgart and Härlen
Schule Schloss Salem
Schloss Spetzgart
88662 Überlingen

Send email
Boarding School
The Boarding School
Students in the Abitur and the IB programs attend lessons on two campuses which are separated by a 15-minute walking path: Schloss Spetzgart and the Härlen Campus. Students in Year 11 live in the Spetzgart Castle on a hill overlooking Lake Constance. In their final year at school most students live on the Härlen Campus. Student dormitories offer 2-bed rooms. The apartment of the responsible "House Tutor" is located in the same building.
Learning to Take On Responsibility
By taking on responsibilities students have a strong influence on the daily course of boarding school life. In these years they become of age and enjoy greater freedom in shaping their own everyday lives. Moreover they learn to take on more responsibility for themselves and for the community. The rules of community life result of a dynamic political process. These guidelines are developed in committees of the student self-government and revised when necessary together with the boarding school administration. Maintaining a balance of interests is thus an integral part of everyday life.
Extracurricular Activities
Whether music, art, handicrafts, social services, theater or sport - after-school activities begun in the Middle School can be continued at College. This is extended further with a very wide outdoor program giving each individual the opportunity to explore his or her personal limits and to master new challenges in the outdoors.
Culture and Politics
Cultural affairs are a solid fixture of boarding school life in the upper school. Various theater and musical productions, guest performances by renown artists and ensembles, or off-campus excursions to cultural events are only some of the many offerings. One long-standing tradition is the regular series of "Spetzgarter Supper Talks" (Spetzgarter Abendbrot), to which a student committee invites and hosts prominent figures of public life who give a talk and enter into dialogue with the audience of students and staff.
Constitution
Every public community needs a political foundation. At Salem International College these basic principles are set out in a constitution. It provides insight into the diversified democratic structures and institutions which shape, guide and monitor community life. Students who take on offices with political functions come face to face with situations of real conflict and experience the difficulties involved in reaching decisions through compromise. In this way they learn what it means and how important it is to take on responsibility in "real" life.
The Salem Report
No community life is possible without rules. At the beginning of Year 11 each students receives the Upper School Guidelines which apply to both campuses, i.e., to Spetgzart and Härlen.
The focus of boarding school life in the Upper School is on preparing for the school-leaving diploma and the steps that will follow. Consequently the so-called "Salem Report" contains not only evidence of academic achievements, but also all the skills and knowledge acquired outside the classroom. It supplements the Abitur certificate or the IB Diploma by drawing together the key experiences by which students qualify themselves for their future professional and personal path in life.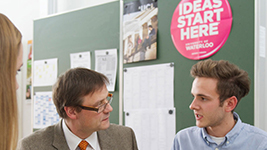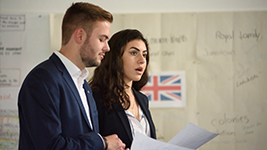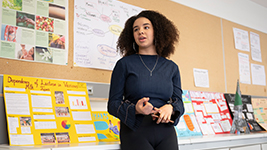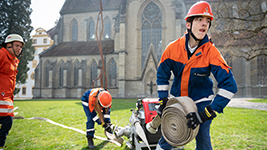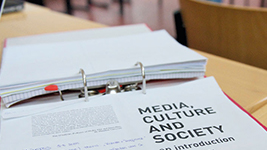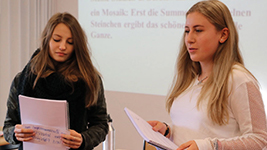 Abitur
Much more than only a school diploma
The Salem Abitur
Naturally grade marks play a decisive role at Schule Schloss Salem, too. But equally important for us, of course, is that each of our students acquires not only academic skills, but also individual and social compentencies.
Mandatory Section
Mandatory courses are taught for two semesters
Five core subjects (à Four Hours Per Week)
German, mathematics, one foreign language, a further foreign language or a science, and one elective subject
Instruction in at least five additional subjects (à two hours per week)

These may be selected from the following, unless chosen as core subjects:
Social sciences (four semesters History, two semesters Geography, two semesters civics), Art or Music, Religion or Ethics, two sciences (Physics, Chemistry or Biology), Sport
Elective Section
In general elective courses are taken for two semesters.
Seminar Course (in 1st and 2nd semester)
This course covers a range of topics. Under certain conditions the course can be counted as an oral final examination and thereby be one part of the Abitur examinations.
Elective courses
Students select from a range of courses, which may include, for example, Literature, Philosophy, Psychology, Descriptive Geometry, Geology, Astronomy and Computer Science
Abitur examination
The Abitur examinations consist of a written and an oral section:
Written Examination
Four of the examination subjects must be selected at the beginning of the 2nd semester. They include German, Mathematics, a foreign language, and a fourth subject.
Oral Examination
The oral examination is taken in a further subject which is chosen on the basis on certain criteria and decided upon at the beginning of the 3rd semester.
Abitur results
School Year 2018 | 2019
Number of candidates registered in the session: 82
Number of graduates: 81
Average grade: 2,43
Number of graduates who obtained grade 1,9 or above: 20
Average grade in Baden-Württemberg: TBA
School Year 2017 | 2018
Number of candidates registered in the session: 78
Number of graduates: 74
Average grade: 2,38
Number of graduates who obtained grade 1,9 or above: 25
Average grade in Baden-Württemberg: 2,40
School year 2016 | 2017
Number of candidates registered in the session: 78
Number of graduates: 77
Average grade: 2,21
Number of graduates who obtained grade 1,9 or above: 30
Average grade in Baden-Württemberg: 2,38
Specialities
Evaluation is Based on Semester, Not School-Ages
Agess 11 & 12 at Salem College are divided into four independently evaluated semesters (11.1, 11.2, 12.1 und 12.2).

Courses Rather Than Classes
Due to the course system each students receives an individual schedule.

Point System Rather Than Traditional Grade Marks
Salem's numerical marking scale runs from 0 to 15 points.
International Baccalaureate
Developing the problem-solvers of the future
The International Baccalaureate (IB)
Kurt Hahn was not "only" a co-founder of our school, but also one of the educators who helped draft the first internationally accepted high school diploma. Thus the International Baccalaureate (IB) Diploma Programme has long formed its own very dynamic academic branch at Salem. In recent decades a wide spectrum of subjects and an enormously diverse extracurricular program of mandatory activities has been developed. These are divided into three areas - Creativity, Activitiy and Service (CAS).
The final point score in the IB Programme is composed out of the externally assessed May examinations at the end of the second year of the Diploma Programme. Externally assessed and/or moderated course work makes up about 30% of the results.
The two-year Diploma Programme (DP) follows an official calendar of deadlines for the completion of various classroom and school assignments.
The core of the DP consists of:
The Extended Essay (an academic research project in a subject chosen by the student)
Theory of Knowledge (a course on developing analytical skills and critical thinking)
Creativity, Activity, Service (relating directly to the Salem idea of engagement, self-discovery and service)

For further detail please download our IB Handbook.
The subjects offered at Salem
Group 1: Language A - native or near-native level, or as self-taught mother tongue
English
German
Spanish
Self-taught mother tongue
Bilingual Diploma
The Bilingual Diploma can be earned by choosing TWO Group 1 languages

Group 2: Language B and Language ab initio – language acquisition
English B
German B (also for beginners)
French B
Spanish B

Group 3: Individuals and Societies
Business Management
Economics
History

Group 4: Sciences
Physics
Chemistry
Biology
Computer Science
Environmental Systems and Societies

Group 5: Mathematics
Maths Studies
Maths Standard Level
Maths Higher Level

Group 6: The Arts
Salem IB results
School Year 2018/2019
Number of candidates registered in the session: 44
Number of candidates passing the Diploma: 43

Average points obtained: 32
Highest Diploma points awarded: 41
Number of candidates with 39 points or more: 5
Number of candidates with 37 points or more: 9
Contact person
Dr. Constanze Schummer
IB Coordinator, Teacher
Abitur: Englisch
IB: History, Theory of Knowledge
Schule Schloss Salem
Campus Härlen
88662 Überlingen
Tel.: +49 7553 919-526
E-Mail senden


Career Counselling
Two experienced career counselors , Dr. Günter Klause and Dr. David Mathieson, advise students at Schule Schloss Salem regarding their future career paths. Furthermore members of the Salem network - teachers, parents, alumni, and other experts - are available to offer advice and assistance.
Career counselling begins in Year 9 and follows a clearly defined goal: each student should become aware of his or her individual skills and interests and be able to make realistic decisions regarding his or her own future endeavors.

Students are provided continual in-put at three levels in preparation for embarking on their chosen path upon leaving school:
Counselling
Self-Discovery
Information
Contact person
Dr. Günter Klause
Career Councelling Abitur
Teacher: Latin, Russian, Psychology
Dr. David Mathieson
Career Councelling IB
Teacher (IB): Economics, ToK, History
Decision-making Guidance and Information
BEST
A state-sponsored training program held at Salem for identifying goals and making decisions regarding career-training and university study.
Career Information Day
Students are given the opportunity inform themselves in detail about a selection of professions. Parents and alumni participate in information sessions which help students compare their ideas of those careers with real-life cases and situations.
Information about European Universities
Students are given general information and, whenever possible, meet with representatives of national and foreign universities who make visits to the Salem campus.
Counselling
Regular individual counseling throughout school Ages ; Support in focusing on a study program or apprenticeship and in finding appropriate University ; Support in preparing university applications for German and foreign universities
Tests and Applications
PSAT Test
The Preliminary Scholastic Aptitude Test (PSAT) is a standardized test offered by a U.S. organization and measures academic skills in the areas of critical reading, mathematics and writing. The test provides students in Ages 10 feedback about their performance level and familiarizes them with the SAT test format.
SAT Test
Participation in the SAT test is usually required as part of the application process for U.S. universities.
TestDaF
During German lessons in the IB system students receive preparation for this centrally administered test of German as a Foreign language, which is required by all German universities.
Application and Admission Procedures for all Universities
We support our students during the university application process which - especially for universities abroad - may involve very complex and demanding procedures.
Salem 10PLUS - Aufbaugymnasium
Another way to the Abitur
The Aufbaugymnasium 10PLUS follows the educational guidelines of the state of Baden-Württemberg for a secondary education curriculum which – by building on a middle-school certificate – enables a student to achieve the German Abitur, its general higher education entrance qualification, in three years.
In the second and third years the programme is identical with the two-year Kursstufe system of a general Gymnasium. But the central feature is its first year, Year 10PLUS. All students whose previous educational paths do not enable them to enter immediately into the two-year system will have the opportunity to achieve the prerequisites for doing so.
10PLUS is designed especially for students coming from ..
German Realschulen
Common or comprehensive seconday schools
Rudolf Steiner Waldorf schools
Foreign high schools
Schools in another German federal state with a nine-year Gymnasium
Schools in another German federal state analog the German Realschule
The curriculum
The choice of subjects and the syllabus of instruction conform to the guidelines of the state of Baden-Württemberg. Additionally, intensive tutoring in the subjects of German, Mathematics and English is provided. The general Abitur requires a student to learn a second foreign language. When previously begun, a foreign language will be continued; otherwise it is introduced in a late-beginner's foreign language course. For the final three years Salem offers Spanish, which students take together in one class.
Boarding School Life
At Schule Schloss Salem the Aufbaugymnasium 10PLUS is not merely adopting well-tried methods of instruction. Integrated within boarding school life in the upper school, this new branch will be a part of Salem's unique, holistic education programme, which has always revolved around the guiding principle of "educating to take responsibility."
Students of the Aufbaugymnasium 10PLUS will reside and pursue daily activities in Spetzgart Castle, the site of Salem's upper school. Here they will be members of an international school community. Included in the "core requirements" is participation in at least one of Salem's social services and in sports activities. As participants in the system of student self governance each individual can become actively involved through various elected offices and thereby bear decisive responsibility for the school community.
Through the interplay of classroom instruction and boarding school life, the Aufbaugymnasium 10PLUS is much more than a hinge between a middle-school certificate and the upper school's Kursstufe. Students will instead experience a welldesigned and demanding school year of broad scope in which they can fully develop their cognitive, practical, personal and social competencies. As a result, students will leave this carefully conceived school programme as valued, well-developed individuals of sound, sustainable character.
Contact person
Brigitte Mergenthaler-Walter
Director of Studies
Tel.: +49 7553 919-524
E-Mail senden

There is even more to discover
Especially the Salem Services and all other extracurricular activities are a main part of the Salem boarding school education!
Find out more
How does it feel to go to boarding school?
After a three-day taster weekend at one of our locations, your child is guaranteed to answer this question.
Explore our taster days