Boarding School
Accomodations
Students in Agess 7 to 10 reside within Salem Castle in dormitory wings of between 15 and 22 other students. Dormitory rooms may have 2, 3 or 4 beds.

Daily Schedule
A detailed daily schedule and age-appropriate rules help give structure to daily life. It also raises students' awareness for their steadily growing level of self-responsibility. In particular, issues such as digital media, alcohol abuse, and nicotine consumption are topics for discussion.
Morning run (in summer months)
One school assembly per week at minimum ("Morgensprache")
Communal lunch hour
Study Time (currently between 5:15pm and 6:45pm)

Ages 9 - Tests of Endurance and Strengthening Social Competence
Each student devotes himself or herself to a community service activity groups such as the fire brigade, emergency rescue relief, emergency first aid, community assistance, environmental protection, or boating and water rescue. This commitment encourages a sense of responsibility and develops one's ability, in an emergency situation, to come to the aid of others with the appropriate skills, perseverance and circumspection. In addition, all students in Ages 9 take part in a major Outward Bound expedition in Norway, where they prove their mettle in the wilderness - both alone and as members of a group.

Ages 10 - International Exchanges and Workplace Internship
Many Salem students chose to spend a trimester of their 10th Ages on an exchange program with one of the partner schools of the Round Square Organization (e.g., in the U.S.A., the U.K., Australia, South Africa, Canada or India). All Ages 10s take part in a three-week internship at a workplace of their choice.

Taking Responsibility as an Office Holder
Whether as school speaker, captain of a service group, helper on a dormitory wing, visitors' aide, or head of the clubhouse - students in Ages 10 take on leadership duties in important areas of the boarding school. Dormitory helpers, for example, provide indispensible assistance in maintaining orderly daily routines on the wings. Service captains provide leadership and help to organize, together with their service mentors, the appropriate training. Visitors' aides act as guides for guests during visitor tours and other events.

What happens on weekends?
Weekends at Salem are anything but boring: from athletic activities, ski excursions, sailboat outings to campus games and local excursions to movie theatres, theater performances and clubhouse parties -- the wide range of activities students help to organized as part of the "Salem Weekends" ensure a rewarding variety of leisure pursuits. Fixed dates on the school Ages calendar include an overland run in November followed by a formal dinner; a dance course followed by a school ball; coats-of-arms painting prior to the raising of the maypole and a charity run on May 1st.
Impressions from year 9 & 10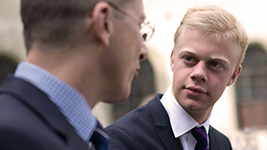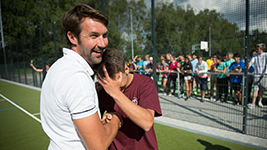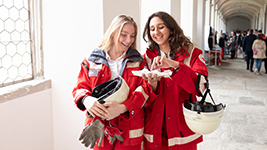 Middle School 9 & 10
Instruction in small classes and study groups, embedded in learning Centers
Supervised study times after School
Support and encouragement based on previous level of skills knowledge, e.g., through additional learning Groups
Guidance and learning support program
Encouragement of special talents through participation in competitions, student academies and campus-based activities
Support and monitoring by year-based teams of subject specialists and boarding staff for each year Group
Educational therapy for students with learning disabilities
Supplemental German and English courses for non-native speakers and the opportunity to earn language certificates
From Year 8 and onwards: academic specialization by course profile (natural sciences or languages)
Holistic, project-based and interdisciplinary learning in mixed classes for topics such as agriculture, health, Stone Age, Middle Ages, Newspapers & Media, and National Socialism
Supplemental, theme-related educational activities, such as study trips, excursions, extracurricular clubs (Model United Nations, political forums, etc.)
Civic education through evening programs and student self-governance (student council, academic council, study groups)
International exchange program with partner schools throughout the world
Preparation for the Abitur and IB tracks in the Upper School
Outdoor activity days, Outward Bound expeditions, ecology field trip, athletic events

Exchange programmes
As a founding member of the Round Square Association Salem offers an attractive exchange program with some of the over 190 member schools, as well as many other schools around the world. Students in Agess 9 and 10 can apply for a visit of eight to 12 weeks at one of these schools. Students from the other partner school also attend Salem for a similar length of time.
The exchange programs involve schools where English, French or Spanish is spoken.
Individual Exchanges
This involves an exchange arranged between one Salem student and one foreign exchange student.
Applications for the Salem exchange programs can be approved when the student displays an above-average academic record and active involvement in boarding school activities. Decisions are made by an in-house review committee.
Group exchanges
Regular group exchange visits are arranged with the Tsinghua High School in Beijing, China (Agess 8-12) and the Alsacian Institut de L'Assoption in Colmar, France (Agess 5-7).
Application process
Information-gathering interview with Salem's International Office
English-language application
Reports gathered from boarding school mentor and class teacher
Decision to accept application by head of studies and head of boarding school
Extensive application portfolio prepared for the partner school (personal information and profile, academic record, boarding school report, class teacher report, certificate of health, vaccination record, parental approval)
Selection of foreign school made together with the International Office (residency in boarding school or with guest family)
If necessary: Visa application arranged by the student
Travel arrangements organized by the student
Frequently asked questions
In which countries are our exchange school partners located?
North America: Canada, U.S.A.
South America: Peru
Europe: Switzerland, France, UK, Spain
Africa: South Africa
Asia: India, China, Singapore
Pacific: Australia, New Zealand
What kind of schools are involved?
Boarding schools (both co-educational and girls' or boys' schools)
Day schools (with host families)
What are the prerequisites for a successful application?
Submission of application in English by the deadline
Good academic record (above-average marks on current grade report)
Above-average involvement in boarding school community (e.g., as office holder, activity leader); the student is a dedicated member of the community and judged to be a worthy representative of Salem and Germany
Approval from heads of boarding school and academic studies
Readiness to host exchange students in Salem, also during school holidays
Extensive application portfolio for the partner school
Readiness to make a presentation about Salem at the partner school
Willingness to maintain contact with teachers and fellow students in Salem regarding current classroom assignments, with subsequent independent self-study
Continued pursuit of long-term projects
Presentation at school assembly in Salem
Written report in English about exchange experience (to be graded by English teacher) within three weeks upon return
What are the duties of an exchange student?
Active participation in the preparation phase
Precise agreements with all subject teachers before beginning the exchange
Regular feedback during the exchange
Presentation about Salem at school assembly of the partner school
Hosting of exchange students in Salem
Hosting of exchange students during shorter school holidays as needed
What deadlines must be observed?
Counseling interviews take place throughout the Ages with the staff of the International Office
Applications must be submitted in the school Ages prior to the planned exchange
Class 10 students who newly admitted to the school may submit an application by the beginning of the autumn Holidays
When do exchanges take place?
Exchanges may take place in any of the three trimesters, as well as during the summer holidays
Newly admitted students may participate no earlier than the 3rd trimester of their first Ages at Salem
How long does an exchange last?
Individual Exchange:
Approximately six weeks for students holding important offices at Salem
Up to three months for all other students
Group Exchange:
China exchange program lasts approximately 10 days
France Exchange program lasts approximately 1 week
What costs are involved?
Airline fare
Pocket money
Gifts for hosts
Security deposit to the exchange partner school
Exchange students continue to pay school fees at their home schools
Who can apply?
Every student in the middle school
Preference is given to students in their last Ages of middle school (IC10 and Ages 10 D)
Students with an exemplary academic record
Students with a good academic and boarding school profile
Students who have not incurred repeated disciplinary measures
Will the exchange school provide certificate of attendance?
In most cases the exchange student will receive an official certificate.
Contact Person
Nina Peters
Head of International Office
Tel. +49 7553 919-305
Send email
Careers Counseling
Two experienced career counselors , Dr. Günter Klause and Dr. David Mathieson, advise students at Schule Schloss Salem regarding their future career paths. Furthermore members of the Salem network - teachers, parents, alumni, and other experts - are available to offer advice and assistance.
Career counselling begins in Year 9 and follows a clearly defined goal: each student should become aware of his or her individual skills and interests and be able to make realistic decisions regarding his or her own future endeavors.

Students are provided continual in-put at three levels in preparation for embarking on their chosen path upon leaving school:
Counselling
Self-Discovery
Information
Year 9
Ages 9
Evaluation of One's Own Interests, Aptitudes and Goals
In both the German and international track students in Ages 9 attend a workshop with both of Salem's career counselors. Students learn to develop an awareness of their skills, interests and goals. This process of self-discovery is an important prerequisite for selecting the best, i.e. personal, academic profile and appropriate extracurricular involvement in student positions and functions. Interdisciplinary social science lessons introduce students to various kinds of career fields.
Counselling
Developing a scenario of future prospects based on an analysis of interests and abilities
Year 10
Year 10
Workplace Internship
Since 1984 all students in Ages 10 have been required to undertake a three-week internship in a workplace of their choice. In addition to the work experience itself, this project involves pre-internship preparation and post-internship reflection during their German and social studies classes, as well as a final presentation.
Counselling
Assistance with personal evaluation of the workplace internship; Individual counseling: Choice of subjects for German Abitur "Kursstufe"; Apprenticeship ambassadors program.
Tests and Applications
PSAT Test
The Preliminary Scholastic Aptitude Test (PSAT) is a standardized test offered by a U.S. organization and measures academic skills in the areas of critical reading, mathematics and writing. The test provides students in Ages 10 feedback about their performance level and familiarizes them with the SAT test format.
SAT Test
Participation in the SAT test is usually required as part of the application process for U.S. universities.
TestDaF
During German lessons in the IB system students receive preparation for this centrally administered test of German as a Foreign language, which is required by all German universities.
Application and Admission Procedures for all Universities
We support our students during the university application process which - especially for universities abroad - may involve very complex and demanding procedures.
Contact person
Dr. Günter Klause
Career Councelling Abitur
Teacher: Latin, Russian, Psychology
Dr. David Mathieson
Career Councelling IB
Teacher (IB): Economics, ToK, History