Boarding School
Accommodation
Students in Agess 7 to 10 reside within Salem Castle in dormitory wings of between 15 and 22 other students. Dormitory rooms may have 2, 3 or 4 beds.

The daily schedule
A detailed daily schedule and age-appropriate rules help give structure to daily life. It also raises students' awareness for their steadily growing level of self-responsibility. In particular, issues such as digital media, alcohol abuse, and nicotine consumption are topics for discussion.
Morning run (in summer months)
One school assembly per week at minimum ("Morgensprache")
Communal lunch hour
Study Time (currently between 5:15pm and 6:45pm)

Extracurricular Activities
In order to sound out individual talents and weaknesses and to work on them, each Salem student undertakes a range of duties and activities in addition to the compulsory school work. For example, in Ages 8 students become familiar with the basics of a skilled trade and a creative endeavor such as learning to play a musical instrument, singing in a choir, participating in theatre productions, etc. In this way they learn how to treat various kinds of work materials and tools with care and also develop their own creativity.
What happens on weekends?
Weekends at Salem are anything but boring: from athletic activities, ski excursions, sailboat outings to campus games and local excursions to movie theatres, theater performances and clubhouse parties -- the wide range of activities students help to organized as part of the "Salem Weekends" ensure a rewarding variety of leisure pursuits. Fixed dates on the school Ages calendar include an overland run in November followed by a formal dinner; a dance course followed by a school ball; coats-of-arms painting prior to the raising of the maypole and a charity run on May 1st.
Impressions from the boarding school life of the 7th & 8th grades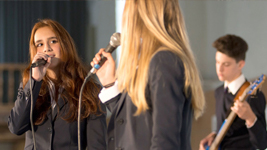 Middle School 7 & 8
During the Years 7 to 10 - in addition to imparting subject content - the foundation for independent learning is established. The parallel paths of the German and international classes also open up a new set of opportunities.
Instruction in small classes and study groups, embedded in learning Centers
Supervised study times after School
Support and encouragement based on previous level of skills knowledge, e.g., through additional learning Groups
Guidance and learning support program
Encouragement of special talents through participation in competitions, student academies and campus-based activities
Support and monitoring by year-based teams of subject specialists and boarding staff for each year Group
Educational therapy for students with learning disabilities
Intensive German courses for non-native learners in an integrated language school
Supplemental German and English courses for non-native speakers and the opportunity to earn language certificates
In Year 8 and onwards: academic specialization by course profile (natural sciences or languages)
Holistic, project-based and interdisciplinary learning in mixed classes for topics such as agriculture, health, Stone Age, Middle Ages, Newspapers & Media, and National Socialism
Supplemental, theme-related educational activities, such as study trips, excursions, extracurricular clubs (Model United Nations, political forums, etc.)
Civic education through evening programs and student self-governance (student council, academic council, study groups)
International exchange program with partner schools throughout the world
Preparation for the Abitur and IB tracks in the Upper School
Outdoor activity days, Outward Bound expeditions, ecology field trip, athletic events
Impressions from the 7th & 8th class lessons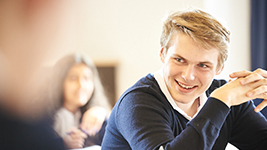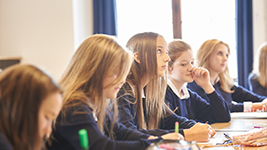 Music profile
At Schule Schloss Salem music can be selected as a major subject starting in the 8th Year. It is also an option for those students in our international track with sufficient competency in German. As further possible major subjects the school also offers French and Spanish as third foreign languages or a curriculum focused on science and technology.The music major includes four hours of instruction per week from Year 8 through Year 10, and a passing mark is required for yearly promotion.

In our music programme students can and should put increased focus on their own personal experience and expertise with an instrument, alongside of lessons in singing, improvisation and dance. Active music performance plays an essential role in their learning and makes up a third of the student's marks.
In addition to the oral and written work on quizzes, tests and presentations, performing with a musical instrument and contributing to a musical ensemble will always be of central importance to the programme.
Contact person
Thomas Braun
Music Consultant
Tel. asdasdasdasdasd
Send email