Boarding School
A Daily Schedule as Orientatio
The daily schedule and age-appropriate rules provide a dependable framework and clear boundaries, giving indispensable guidance to children of this age group.


Safe and Secure at Boarding Schoo
The most important feature of a boarding school is the people who live and work there - in particular for the girls and boys of Years 5 & 6. Each of them is a member of a small group, a so-called "Mentorat". The adults, the mentors, who guide the children through their day, educate them, help them, comfort them and enable them to stay in regular contact with their parents. They reside in the same building and hence are always present for our youngest boarders.
Equally important for our children is having friends of the same age in their dormitory rooms. Here they learn to share their daily lives with others and how important it is to be able to depend on one another.


Educating Children to Assume Responsibility
Students consciously share the responsibility for organizing their lives within the boarding school: from helping in the kitchen to serving as class speaker, from distributing the mail to writing press reports - our students take on a wide range of tasks and offices. Naturally this must not conflict with having a good time. Whether singing in the choir or learning a musical instrument with a private tutor, taking part in the outdoor club or the archery club, using the new gymnasium, the swimming pool or the huge lower school garden: there are a wide number of opportunities for everyone to discover and develop their own talents.
Over the past decades many traditions have become established in Salem's lower school that make the time spent in the boarding school a unique experience. These include the various celebrations at different times of the year, as well as the school dress worn in the classroom and on special occasions. Saying grace at each meal in the dining hall is an impressive symbol of reflection and gratitude -- especially for all those things which seem commonplace, but yet should not be taken for granted.
Impressions from the years 5&6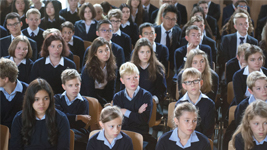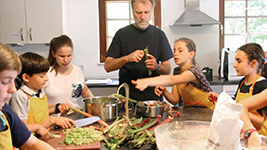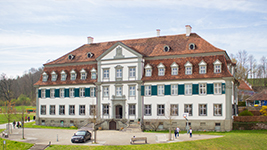 Junior School
The pedagogical concept for Years 5 and 6 is defined by intensive supervision within a child-appropriate environment:
Instruction in small classes and study groups, embedded in a learning centers
Supervised study times after school
Support and encouragement based on previous level of skills knowledge, e.g., through additional learning groups
Guided learning and a learning support program
Encouragement of special talents by participation in competitions, student academies and campus-based activities
Support and monitoring by year-based teams of subject specialists and boarding staff
Educational therapy for students with learning disabilities
Intensive German courses for non-native learners in an integrated language school (Years 5 to 7)
Supplemental German and English courses for non-native speakers and the opportunity to earn language certificates
Holistic, project-based and interdisciplinary learning in mixed classes for topics such as agriculture, health, Stone Age, Middle Ages, newspapers & media
Supplemental, theme-related educational activities, such as study trips, excursions, extracurricular clubs
Civic education through evening programs and student self-governance (student council, academic council, study groups)
Outdoor activity weeks
Impressions from the 5th & 6th years lessons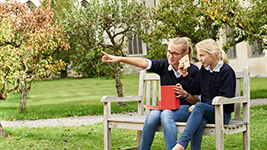 Integrated Language School
Schule Schloss Salem is the only boarding school in Germany with an one-year program for students who enroll with no knowledge of German:
In small classes Years 5 & 6 students receive instruction in "German as a Foreign Language" (approx. 18 hours per week)
Through this intensive course students can soon communicate in German and take part in many facets of boarding school life
Along with the other students in their class year, students take part in lessons in some subjects, e.g. Mathematics, English, Art, Music and Sport
Instruction is given by specially certified teachers who are not only qualified to teach "German as a Foreign Language" but have also acquired intercultural competence with regard to different cultures
In cooperation with the Goethe-Institut students take the appropriate certificate examinations in order to reach Level B1 of the European Framework of Reference for Languages (CEFR)
After acquiring the Level B1 certificate, language school students take part in regular classroom lessons. Parallel to this they continue to receive attend a weekly four-hour course in "German as a Foreign Language".