Learning & Experiencing
Learning groups in the morning
In the mornings, between 8:30 and 10:30 a.m., there are learning groups for both languages and science. 'Learning how to learn' -- an approach to independent and self-directed learning -- will be given primary focus. Using new and entertaining methods as well as study tips and concentration exercises, students will become fascinated and more secure in this subject. Alternatively, children can attend a course which focuses more specifically on 'Learning more about...'
Daily Schedule (Monday - Friday)
08:30 - 10:30
Learning Groups
11:00 - 12:30
Learning Activities (Theory)
Practical Activities (Practice)
13:30 - 18:00
Children can attend the following courses:
German
For children who like to read stories or write essays and would like to improve their spelling and grammar, this is the perfect course. Under the expert guidance of a qualified German teacher they will be able to discuss their ideas and put them on paper. In the process, they will expand their vocabulary, improve their writing style and enjoy a creative but practical approach to the German language.
Basic English
This class is designed for children who are interested in the English language, who have had at least one year of instruction at school and who are not native speakers. Speaking and expanding vocabulary will be the main focus. Members of this group will conduct interviews, for example, with the English-speaking members of the Summer Camp and write articles for the camp's newspaper which each student will receive at the end . In addition, classroom work will include topics of grammar and listening comprehension.
German as a Foreign Language (DaF)
For Beginners
This group will be made up of students without any knowledge of German who want to take up the challenge of the German language for the first time. Along with the usual entry-level topics, the course will focus particularly on boarding school life vocabulary Children will learn to introduce themselves, conduct simple daily conversations, and write brief texts in their new language.
For Advanced Learners
This is the right course for students who have already had some German at home or at school and want to expand their skills. We will be dealing with topics that children are especially interested in and can do some research on their own. With this dynamic and entertaining approach they learn to speak and write more fluently. They will write short contributions for the Summer Camp newspaper which each student will receive at the end. Parallel to this, students will receive individually tailored grammar exercises and also practice listening comprehension.
History
Travel back in time and experience Schloss Salem and its surrounding area in the middle ages, through theory and practice. Good knowledge of the German language is required to attend this group.
Practical Mathematics
Here, you will enjoy mathematics in a more interesting and practical way. Through different games and learning styles, you will develop an understanding of various mathematical rules and laws.
Mini Uni
As a young 'university student' you will learn exciting aspects from the natural sciences and technical fields. Practical lectures will introduce you to amazing phenomenon under the guidance of different experts.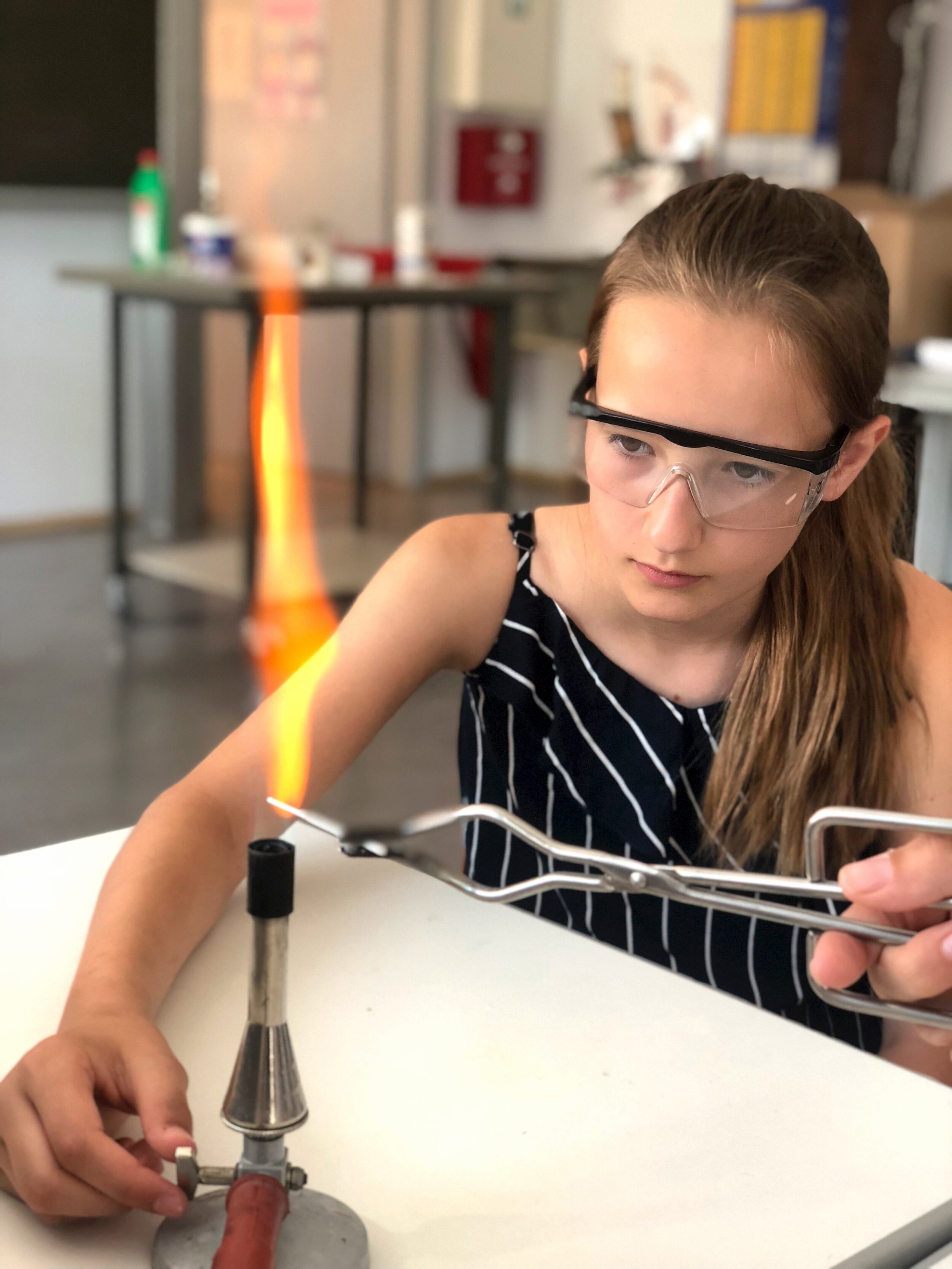 Practical Groups
After the two-hour academic sessions, students will have a relaxing snack break.
The next time period until lunch is dedicated to practical work in small groups -- or more specifically to theoretical sessions in preparation for their afternoon activities.

After a nutritious and delicious lunch, students will devote their afternoons entirely to practical activities in small groups. Between 2 p.m. and 6 p.m. during the week, students take part in these practical groups. In this way they have the chance to dedicate themselves intensively to an activity of their choice for the entire duration of the Summer Camp.
The group leaders are trained experts in their field and are ably supported by our enthusiastic Assistants. The size of each group varies from 8 – 14 children. The following activities can be chosen from:
Art & Crafts
If you are creative and enjoy the arts, you'll have a great time here. You can try out using many different kinds of materials including plaster, Indian ink, oil paints and soap stone. We are looking forward to a lot of young artists who will find artistic inspiration at Schloss Salem and its beautiful surroundings.
Sailing
The sailing course is mainly intended for beginners. The basic theory lessons take place in the morning at Schloss Salem.
The practical sailing course takes place from our school's private harbour near Überlingen, on the shores of Lake Constance. In Optimist dinghies and our wooden cutter, students put theory into practice. Along with sailing practice, they will also learn how to maintain and care for the boats. And if the wind dies down, the group leaders will organize a variety of fun competitions, such as learning how to tie knots and paddling races using our stand up paddle boards.
At the end of the course, the sailors who pass the test will be able to take home their Salem-'Opti-Diploma'!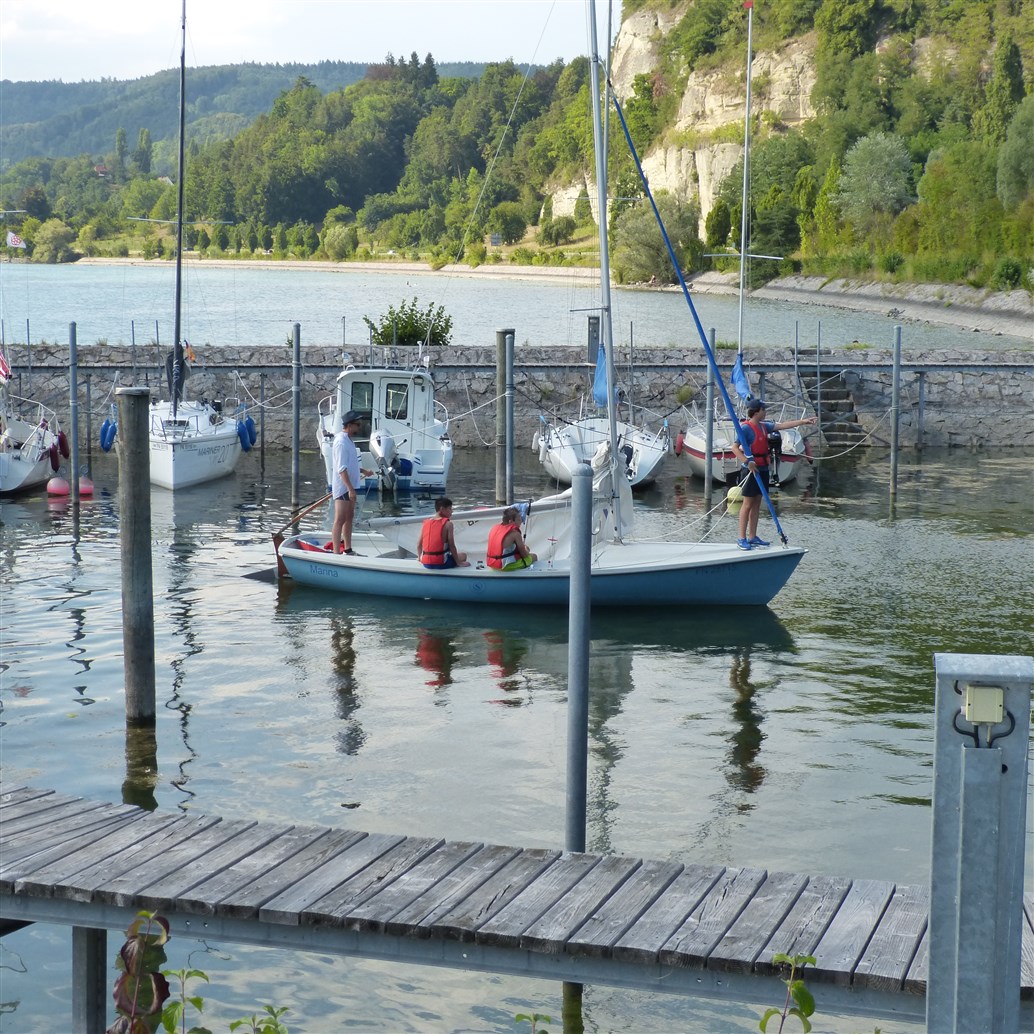 Sailing in the school's own harbour
On stage
Music, theatre and musical performance -- here children enjoy their first exciting experience of performing , speaking, singing and acting in front of an audience.
Young performers will have plenty of opportunities to follow their own ideas and creativity. Whoever already plays an instrument is welcome to bring it to camp. In the group we will also write our own short plays and try out different roles.
The climax to all this hard work will be presented on stage to parents and friends at the final show. Let the show begin!
Forest
Woods, water, wilderness – in the beautiful and ever-changing natural surroundings near Salem, many facets of the natural world will be explored and experienced in games and practical activities. Led by experienced course leaders, students are encouraged to go barefoot or blind, feeling and tasting and drawing a map of sounds, or to design a miniature natural park. In the theoretical part, using experimentation, children acquire basic knowledge to better understand what goes on in the world of nature.
Circus
Circus arts have a long tradition at Salem and our school students are able to participate in the circus club during the school year.
The atmosphere of a circus has always fascinated children. Here they aren't mere spectators, but learn how to perform circus stunts from experienced circus teachers: riding a unicycle, juggling, handling a Diabolo or Devil's stick, performing acrobatics, walking on a tight-rope and balancing on a large ball. All their practice will be well-rewarded because the circus group's performance is always one of the highlights at the Summer Camp's final show. The ring is open!
Evening programme
After dinner the children enjoy some free time. A variety of leisure and sporting activities is offered to cater to every taste, including:
football matches on the sports field
field hockey (a Salem tradition)
a reading circle
different kinds of handicrafts
writing letters and e-mails to parents and friends.
At 8.00 p.m. children return to their dormitories to change into their nightwear, take a shower and brush their teeth. When 'silentium' begins at 8:30 p.m. the children remain in their rooms and may read or play quietly. After a long and eventful day it's time for lights out at 9.00 p.m., when the mentor comes to say "good night".