Salem 2020
100 Jahre Zukunft
Prince Max von Baden, the reform pedagogue Kurt Hahn and the philologist Dr. Karl Reinhardt opened Schule Schloss Salem on 14 April 1920. We are celebrating this foundation almost 100 years later in the form of various events throughout the anniversary year. An overview of all events can be found at the bottom of this page.

Ceremony on 3 April 2020 rescheduled
The big anniversary celebration of Schule Schloss Salem on 3 April 2020 has unfortunately to be rescheduled due to the current dynamic development of coronavirus infection rates. The planned alternative date is the weekend of the Whitsun meeting of the Altsalem Association next year.
Why are we shifting the ceremony?
The Robert Koch Institute (RKI) recommends to avoid large events if possible.
The health of the students entrusted to us, but also of the staff and our guests has the highest priority.
The upcoming Abitur and IB examinations must not be endangered by potentially infected students present.
We very much regret this decision and have not taken this step lightly. At the same time we are very happy to celebrate the 101st birthday of Schule Schloss Salem in May 2021 with you and other guests from all over the world in a fitting and carefree manner.
All other events planned for the anniversary year will take place as planned.
Countdown: In about 1 week our School will celebrate its 100 anniversary.
But, what happened 10 years ago? (2010-2019)
2013: Opening of the Salem Kolleg
On 15 September 2013 the Salem Kolleg was officially opened on Härlen. For the first 22 students, this marked the beginning of their orientation year, which is divided into trimesters and includes general studies and outdoor training, in order to make a well-founded decision for their future.
All information is available on the Salem Kolleg website
Salem activity garden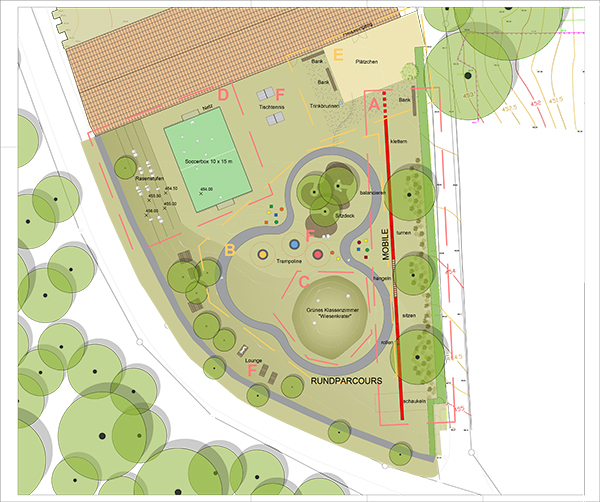 As a gift for the school's 100th anniversary, Salem's students have wished for a commons area for games and sports, for school and leisure activities. Plans are being made to build an "Activity Garden" on the former playground behind the newly renovated "Reithalle", where it can also be used for teaching out-of-doors, as a green classroom.
To complete our Activity Garden we need your help!
Please support us and establish your own memorial in the form of a name plate in our new outdoors arena. In the project sketch you will find a variety of options for a donation or sponsorship.
Donations can be made either by downloading the donations form or directly online:
Get in touch
Sandra Meyer
Communications, Events
Tel. +49 7553 919 288
Send email

Gesa Meyer-Wiefhausen
Head of Communications, Fundraising & Scholarships
Tel: +49 7553 919 371
Send email

Dates & Events
All information about our anniversary year
Rescheduled: 28th March 2020, Lake Constance Doctors Orchestra, with Ms. Sigg
The date will probably be rescheduled from 28.03.20 to the end of the year.
Rescheduled: 3rd April 2020, 100 Years of Boarding School: Schule Schloss Salem
Due to the current situation the 100th anniversary of Schule Schloss Salem has been rescheduled
The alternative date is probably the Whitsun weekend in May 2021.
Cancelled: 4th April 2020, Alumni Dinner
Due to the current situation, the ASV dinner for the 100th anniversary of Schule Schloss Salem was cancelled!
29th April 2020, Salem Salon
Date: TBA
Start: TBA
Location: Schloss Salem
Guest speaker: Pedro Halffter, Composer and conductor
Lecture and discussion evening
Titel: "The political dimesion of music and art"
Cancelled: 29th May 2020, 10th Night of Friends
Due to the current situation the Night of Friends 2020 was cancelled with a heavy heart.
The next Night of Friends will take place on Friday, 26 March 2021.
14th June 2020, Hohentwiel-Adventure Trip
Date: 14th June 2020
Duration: 19:00 Uhr – 22:00 Uhr (boarding: 18:45 Uhr)
Place of departure: Kressbronn
Titel: Dixiland Jazz on board
Tickets are sold via the Hohentwiel website
from 7 February 2020.
4th July 2020, Graduation celebration with dedication of a work of art on Härlen Campus
Date: Saturday, 4th July 2020
Start: TBA
Location: Campus Härlen
21st - 24th July 2020, Four Day Marches Nijmegen
Date: Tuesday, 21st - Friday, 24th July 2020 (+ day of arrival and departure)
Start: TBA
Location: Nijmegen, Netherlands
Charity walk over 4 days and 200 kilometres for the Salemer Scholarship Fund of the Kurt Hahn Foundation and a municipal social project in Nijmegen.
Registration: By 16th March 2020 by mail to Mr. Uwe Petersen (4tagemarsch@schule-schloss-salem.de).
Mr. Petersen registers all participants of the school (pupils, teachers, staff, parents, akumni and friends of Salem) as a group, as this way we receive a starting authorisation without exception.
Individual registrations are put into a lottery drum and have to hope for the luck to be drawn.
We need the following data from you for the registration:
Your current postal address
your email address
Date of birth and nationality
Desire to receive a certificate beyond the marching order. Costs: 11 Euro extra
Registration number (only Nijmegen march veterans)
The participation fee is 100,- Euro.
Please transfer the participation fee after your registration to Schule Schloss Salem:
Sparkasse Salem-Heiligenberg
IBAN: DE39 6905 1725 0002 0019 07
BIC: SOLADES1SAL
Keyword "Nimwegen 2020"
18th July 2020, All-school Sports Night
Date: Saturday, 18th July 2020
Start: TBA
Location: Schloss Salem, sports field
All-school sports night on the Salem sports field.
Students in years 5-12 compete in mixed-age teams and four disciplines.
July 2020, Open Air - Best of Salem
Date: TBA
Start: TBA
Location: Schloss Salem
September 2020, Salem Salon
Date: TBA
Start: TBA
Location: Schloss Salem, Schrote
Speaker: Mr. Bernd Westermeyer - Headmaster of Schule Schloss Salemule Schloss Salem
Lecture and discussion evening
Titel: "The price of freedom - an optimistic look into the future"
October 2020, Salem Salon
Date: TBA
Start: TBA
Location: Schloss Salem, Schrote
Guest speaker: Mr. Rüdiger v. Fritsch, Ambassador (ret.)
Lecture and discussion evening
Titel: "30 years of German reunification - a biographical review"
14th November 2020, Choir and Orchestra Concert
Date: Saturday, 14th November 2020
Start: TBA
Ort: TBA
"Magnificat by Gunther Martin Göttsche"
6th December 2020, Santa Claus concert with christmas texts
Date: Sunday, 6th December 2020
Start: 6 pm
Location: Dorfgemeinschaftshaus Prinz Max, Salem Neufrach
Religious music for Advent, Salem pupils read Christmas texts
December 2020, 10th Parents' Christmas Dinner
Date: TBA
Start: TBA
Location: Schloss Salem, Dining room
Titel: "We are Salem too!"
Past Dates & Events
18th January 2020, Music Competition
Date: Saturday, 18th January 2020
Start: TBA
Location: Campus Härlen, Aula
24th January 2020, Salem Salon
Date: Friday, 24th January 2020
Start: 7:30 pm
Location: Schloss Salem, Schrote
Speaker: Ms. Sophie Weidlich, Mentor and Boarding School-Consultant

Dokumentation and movie night
Titel: "The Mastery of One's Weaknesses" (A 1963 film about Salem)
6th March 2020, Dinner for the Boards
Date: Friday, 6th March 2020
Start: TBA
Location: Schloss Salem, Dining room
8th March 2020, Birnau Abbey Church Choir Concert
Date: 8th March 2020
Start: 11:00 am (till about 12:30 am)
Location: Campus Härlen, Aula
Matinee Concert by the Birnauer Kantorei with Scenes and Choirs from Operas
Piano: Julian Schulz
Direction and moderation: Thomas Gropper