05/20/2020
"Strong Roots Allow for Changes"
Welcome: New managing director and business manager Thomas Obitz introduces himself as the successor of Christian Niederhofer.
On 1 April 2020 Schule Schloss Salem welcomed the new managing director and business manager of Schule Schloss Salem gGmbH, Thomas Obitz. With Mr. Thomas Obitz (48), we have brought on board a lawyer and economist who has a broad spectrum of knowledge and methods, which he will put to good use as managing director and business manager. Thus he is a worthy successor to our highly esteemed Christian Niederhofer. Mr. Niederhofer will thankfully continue in his role as managing director for some time to support Mr. Obitz in his new position. Thank you very much also for this!
The chairman of the supervisory board Dr. Maximilian Dietzsch-Doertenbach introduced Thomas Obitz with a short question-answer dialogue.
Mr. Obitz, you have many years of industrial experience, most recently as managing director of a medium-sized company, why don't you tell us about your previous activities?
Over the past 17 years I have had the opportunity to develop at Atlantic Zeiser, an international "hidden champion" from our region. Based in tranquil Emmingen, in the district of Tuttlingen, the company is the world market leader in highly innovative (digital) technologies. Every one of you has already had products produced with machines developed by us in your hands or keeps them safely in your wallet: banknotes and many plastic cards.
As a young lawyer, I was initially responsible for the areas of law, risk management and compliance. My boss quickly realized that I am not a typical lawyer who hides behind law books, but that for me the human being is in the foreground. I became the link between the management and the employees as well as the works council and was henceforth responsible for the human resources department. I was able to contribute my affinity for IT as well as my understanding of business administration, with the result that I was eventually entrusted with IT, finance and controlling. My Executive MBA studies at the University of St. Gallen in Switzerland were of great benefit to me. In recent years, I have had overall responsibility for the company, which is constantly adapting to changes, as well as for our various subsidiaries in Europe, the USA and Asia. Within the framework of a restructuring following a recent sale of the company, I ended my involvement there on the best of terms.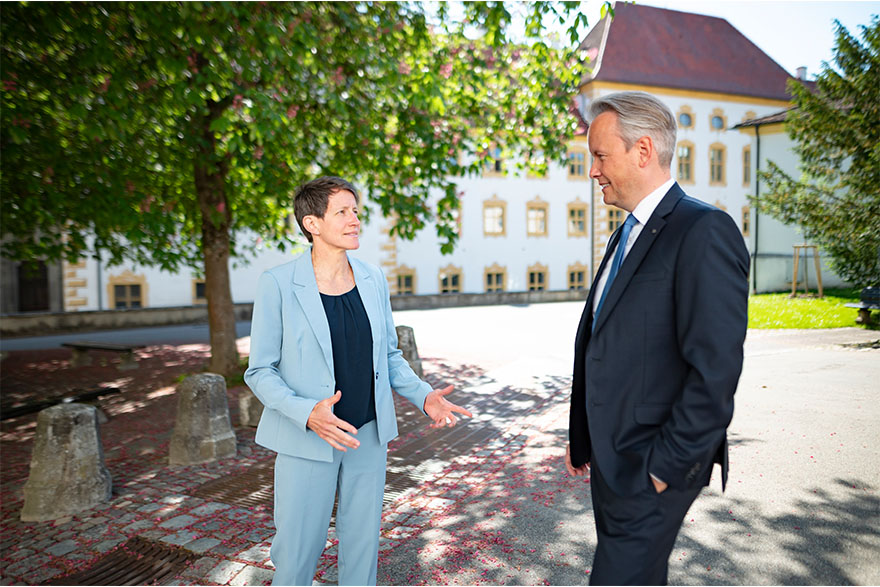 Why now Schule Schloss Salem?
When I received a phone call asking whether I could imagine moving on to a boarding school that I know very well, I was spontaneously enthusiastic, and I consider it a privilege to share the responsibility for the good of Schule Schloss Salem and the young people entrusted to Salem. This task suits me 100% - and this was also confirmed by my friends and colleagues whom I told about it. They all know that I not only approach things in a determined, structured and straightforward professional manner, but also always with a lot of heart and empathy, whether as a superior in the company, as a mediator in the legal environment or in the association Pro Humanitate e.V., in which we help people to help themselves in poor countries. I am the treasurer of this humanitarian association.
You are very future-oriented, so what do you associate with traditions?
As Schule Schloss Salem is turning 100 this year - I would like to congratulate you all most sincerely on this birthday – the former family business of Alois Zeiser belonged for many years to a traditional Swiss company dating back to 1519 (Orell Füssli Holding Ltd.). For me, tradition is the root which enables the company to grow safely and to make the necessary adjustments and changes. This also applies to me personally. I like to quote Heraclitus' saying: "Nothing is as constant as change".


What was your own school time like?
In one word: formative! I like to think back to my school days: my classmates, the teachers and above all my many activities such as my school band, my involvement in the SMV and the Constance School Parliament or in the publication of the school newspaper. I hardly missed any opportunity to discover new cultural or sporting interests, which sometimes became hobbies. At that time I would have wished very much to be together with my school friends not only during the day, but around the clock as it is only possible in a boarding school like Salem. Not only the success was important, but especially to have fun together. So we didn't let ourselves be distracted by the fact that we played easy listening music like Barry Manilow's "Copacabana" instead of heavy metal like many other bands. By the way, I still have a very close friendship with many of my school mates from back then.
What is Thomas Obitz like in private?
I am married to a true Berlin woman. My wife is a ballet dancer and dance teacher. She knows how to make me put my work out of my mind in no time, and then dive into the world of culture with her. During her time at the Staatstheater Wiesbaden and later at the Deutsche Oper Berlin, I became a true enthusiast and connoisseur. After many years of a long-distance relationship, we are now married and live together in Hegau, where she and her dancing colleagues are committed to bringing dance to rural areas.
What connects you with the Lake Constance region?
As a native of Konstanz, I lived in this beautiful region until after my law studies. However, I knew even then that getting to know other countries and regions was important for personal development. So I went to the Federal Cartel Office in Berlin at the end of my legal clerkship. From there, my way led me across the Rhineland almost back to my front door, getting to know many countries and people on my countless business trips along the way.
I will catch up with meeting all of you in person in due course, something I am already looking forward to, as well as to the exciting individual exchange with each of you and a successful and sustainable cooperation. In the meantime, I wish us all, and especially the older generation, continued good health, that we master the current crisis with a lot of common sense and gain many positive insights for the future.
Many thanks and welcome to Salem, dear Mr. Obitz!
back