This is Salem
What makes our boarding school so special
Salem has a unique range of guilds, muses, social and outreach services as well as environmental and social projects both in Germany and abroad. As a result, Salem graduates are willing and able to take responsibility for themselves and others.
Services
During their THW service students learn the basics of technical relief service. This includes learning how to handle various types of equipment, including saber saws, disc grinders and demolition hammers, and much more. In addition, students acquire knowledge of rescue and recovery techniques with the help of ladder lifts, rope ladders, etc. Basic techniques for using wood, metal and stone complete the program. (Photo: Technical Emergency Relief Service)
Guilds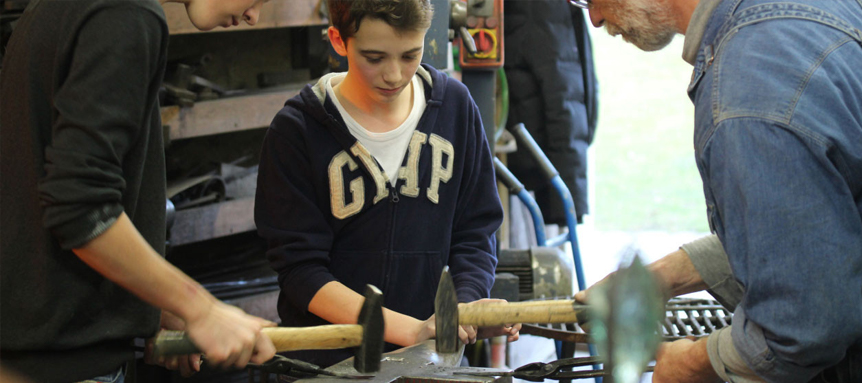 Salem's artisan guilds are oriented toward a craftsman's apprenticeship. The content of each program is modeled on the topics covered in a respective guild's first Ages of training. Focus is placed on developing technical and creative skills. Participation is obligatory in Agess 7 & 8. (Photo: Smithery at Schloss Salem)
Art, music and theater
In Salem's boarding school life and its educational philosophy of educating to take on responsibility activities outside the classroom play an important role. Children and young adults have a unique variety of opportunities to gain new experiences in widely different areas, to follow their interests and their talents, and to develop their personalities continuously.
Lessons take place on the school campus and are given by private teachers whose fees are paid by the student's parents. All students taking music lessons (instrumental or singing) may take the internationally recognized ABRSM examinations Salem's students are regularly amongst the prizewinners at the regional and national level of Germany's music competition, "Jugend musiziert". (Photo: School band College)
Sport
The holistic educational concept also includes the promotion of physical performance. For this reason, every Salem pupil must take at least one further sports course as a supplement to the regular sports lessons.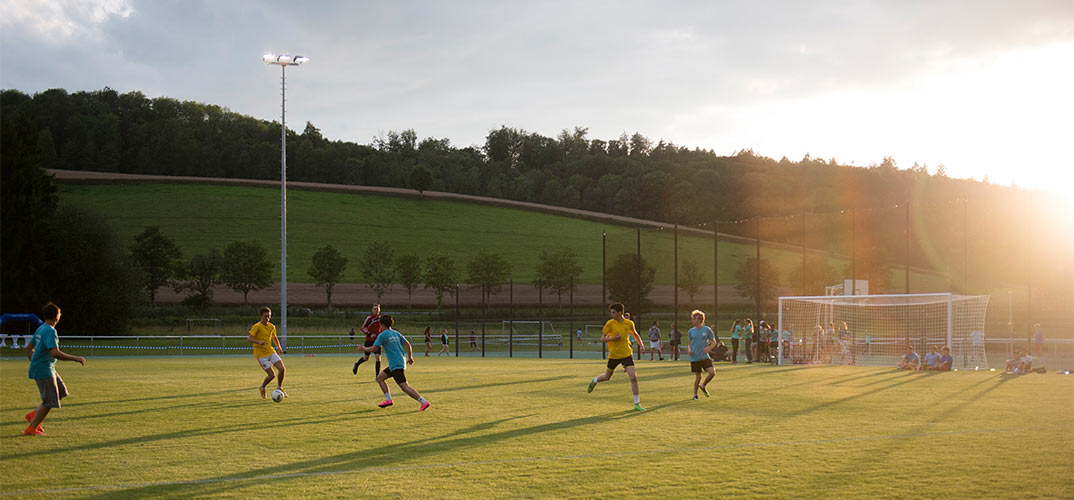 At Schule Schloss Salem there are numerous school teams that also participate in competitions on a regular basis. Alongside the traditional sports Hockey and Basketball there are other teams in the fields of Badminton, Football, and Swimming. The school has three sports halls, two modern sports fields, an artificial turf and a 400m running track. It maintains its own 25-metre indoor swimming pool and both the Middle School and the Upper School offer fitness rooms with a variety of cardiovascular and weight training machines and further crossfit equipment. Moreover, at the Spetzgart campus there is a climbing wall for those who want to practice bouldering. (Photo: Soccer finals at our Abendsportfest)
Salem Outdoor Education
Today's experiential education curriculum at Schule Schloss Salem remains inspired by the basic ideas of Kurt Hahn, one of the school's co-founders. We are committed to ensuring that every student takes part in a variety of outdoor activities in the course of his or her time at Salem.
At the Middle School, all the students in Year 9 go on the traditional Outward Bound Expedition, which is at the very heart of Salem's education program. In Norway they travel through the wilderness for 11 days. (Photo: Rondane National Park Norway).

Number of students
A maximum of 600 students from currently over 40 nations live and study at our three locations (Nov 2019).
Scholarships
Almost 23% of the student body is supported by a scholarship. They benefit from our scholarship fund in the amount of € 2.5 million.
Facts & Figures
Teacher-student ratio: 1 : 6 Class size: 14 - 22 pupils Mentorship size: max. 18 students